BOOKS from THE SUNDAY PAPER
Written and illustrated by Gretchen Wolff Pritchard
for children, parents, clergy and parish educators

THE SACRAMENTS FOR CHILDREN
ALLELUIA! AMEN

The Sunday Paper's Communion Book for Children
and

NEW LIFE

The Sunday Paper's Baptism Book
---
ALLELUIA! AMEN

The Sunday Paper's Communion Book for Children

... has six chapters:

Belonging

Coming Together

Listening and Learning

Praying and Sharing

Breaking Bread

Going Out

Unlike some communion books for children, Alleluia! Amen does not embellish the liturgical text with unexplained pictures of Scruptural parallels or inspirational analogies from daily life. The pictures relate directly to the text, and primarily show the liturgical action, with enough homey detail to make them fun to look at again and again.
"I think it is marvelous work, visually delightful and theologically very sound."
- Madeleine L'Engle
Newbery-Award winning author
"I ask them to read the book, enjoy the book, and this is their book forever; I don't want it back. When they finish the book, I want them to write in the back about things they want to ask me about. They are accustomed to assume that I will be testing them, so it's such a surprise when they find out that they get to ask questions of me instead. They just love the books. And now adults are asking for copies too."
- The Rev. Philip Byrum
La Guadelupana, Wilson, NC
"I have been in 13 churches in 30 years (half of time has been interim work), and have used 'Alleluia! Amen' in nearly all of them. Your work has been a great gift and blessing to me and to many children and adults. Thank you so much for your ministry!"
- The Rev. Linda Pineo
Transfiguration Episcopal Church, Rome, GA
"You might enjoy knowing how a work you published in 1984 still speaks across the decades and across cultural lines! Yesterday I went over to our new family's home to do our first of three communion classes. At the end of the session, I handed out a copy of "Alleluia! Amen" to each of the four official participants, and an additional one to the very precocious four-year-old girl who enthusiastically participated in all aspects of the class. All the kids started leafing through the pages enthusiastically, and wanted to know what their assignment was for next time."
- The Rev. Mark Hansen
St. Clement's, Clemmons, SC
NEW LIFE

The Sunday Paper's Baptism Book

... focuses on the Baptismal Mystery (its Scriptural roots in the story of salvation, its powerful images, its place in our worship together)

New Life has four chapters:

God's Saving Work

(Creation, Flood, Abraham and Sarah, The Red Sea, the Promised Land, the Messiah, the Cross, the Resurrection, new life in the Spirit)

Water and the Spirit

(images of water, wind, fire, birth, death, rebirth; how the Church has used them to celebrate our new life in Christ)

Christ's Body

Christ's Own for Ever

The last two chapters go step by step through the order of Holy Baptism in the Book of Common Prayer.

"I think you do wonderful work. Your two books on baptism and the Eucharist capture a rich simplicity while leaving the mystery intact."
- Marilyn Watkinson
Holy Trinity Church, Buhl, ID
"6-8 year olds preparing for baptism loved it, and it helped them ask questions and figure out their reasons for baptism. We used it in class, they read it at home with parents and then kept the books for themselves—all very helpful."
- Brenda Husson
All Angels', New York, NY
"I had a really special experience with a child who was wanting to be baptized and had never heard the whole story of creation all the way to Christ's death and resurrection. Your book 'New Life' paved the way for us to have a meaningful conversation about water and baptism and coming into God's kingdom."
- Jane Swartz
Christ Church Anglican, Midland, TX
ALLELUIA! AMEN, The Sunday Paper's Communion Book for Children (Episcopal Rite II), was published in 1984 and has sold over 70,000 copies.

Its companion volume on Baptism, NEW LIFE, was published in 1986.

Clergy and teachers find the books indispensable in preparing children and families for Baptism and Communion, and deepening children's experience of the sacraments.

ALLELUIA! AMEN and NEW LIFE are 7 by 8 ½ inches in size, printed on heavy paper, and bound in brightly colored card stock. Each is about 80 pages long, in cartoon style, with big, bold pictures. Each includes the complete people's part from The Book of Common Prayer and most of the celebrant's words, in easy-to-follow cartoon form, so that even beginning readers can follow along during the liturgy, while non-readers can relate to the clear, simple pictures of the church gathered for celebration.

The drawings show a great variety of priests and people, church furnishings and vestments: all sizes, shapes and styles of God's family.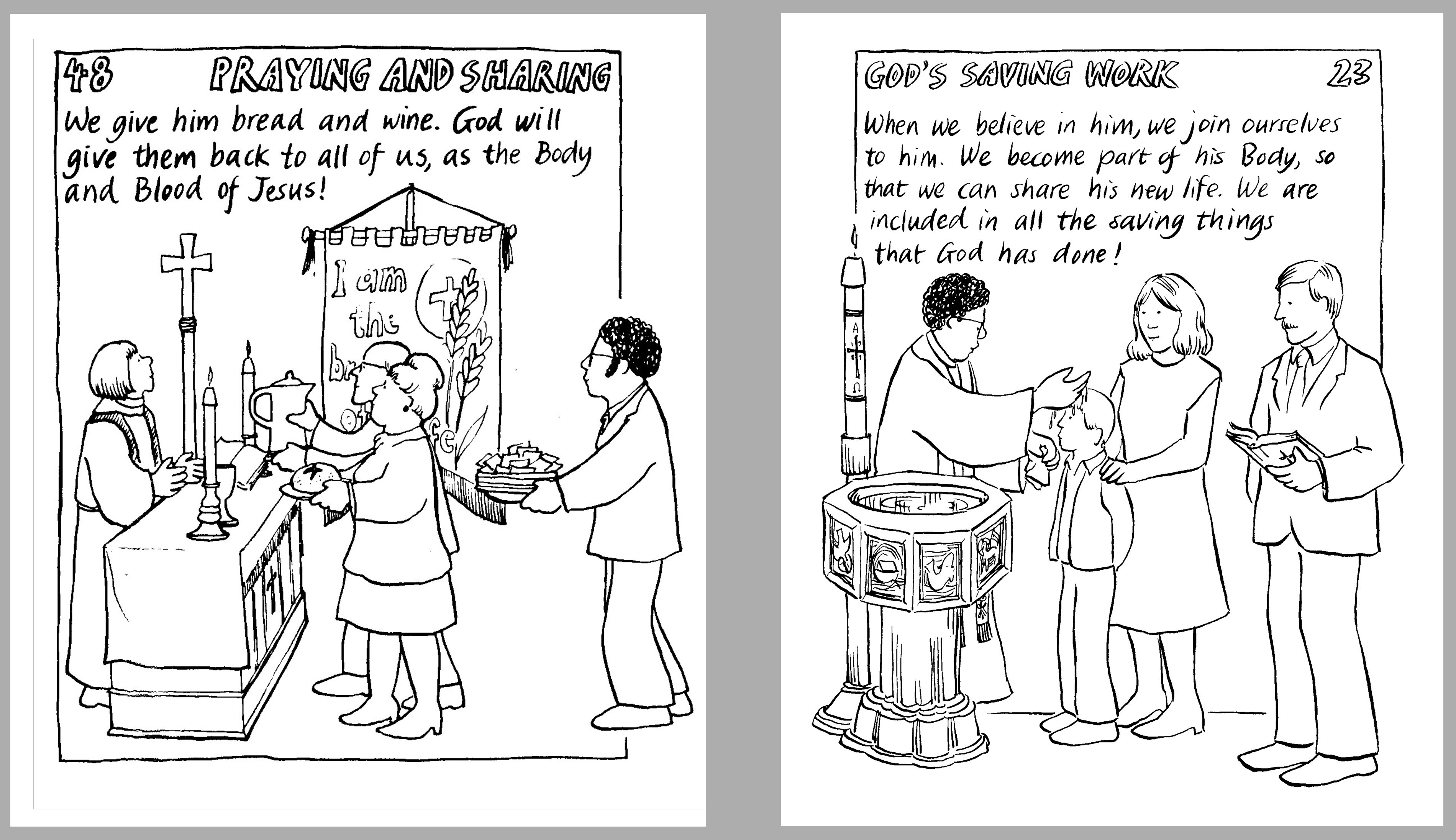 Sample pages from (left) "Alleluia! Amen" and (right) "New Life"
ALLELUIA! AMEN order code: books01
NEW LIFE order code: books02

Price: (either title, alone or in any combination)

Under 10 copies $8.00 per copy
10 or more copies $7.00 per copy
(discounts for very large orders can be arranged—call us at 203-624-2520)